Volume 1, February 2014
(
Index
)
Did you know that men and women each have 23 pairs of chromosome and that the last pair determines your sex? If the last pair is XX then you are a female or if the last pair is XY then you are a male. Each of the 23 pairs of chromosomes contains a long thread of genes. The number of genes (and chromosomes) varies depending on the type of organism. Humans have about 22,000 genes. Chickens have 16,700 genes. Grapes have 30,400 and the tiny influenza virus has only 11. Isn't it amazing that a grape has more genes than a human and that a virus, with so few genes, can cause such harm to humans! Many of the early studies on genes were done on the common fruit fly (Drosophila melanogaster), they have 14,900 genes. See below for more comparisons between genes and chromosomes.
Number of genes by organism: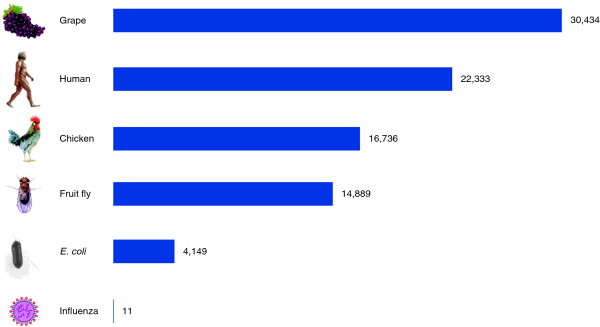 More interesting facts about genes and chromosomes:
Fruit flies have only.........8 chromosomes
Potatoes have ...............48
Your pet goldfish............96
The King Crab................208
Humans.........................46
Humans have 22,000 genes, about the same as a flatworm that has 24,000 genes and 61% of genes on human's 46 chromosomes match the common fruit fly that has only 8 chromosomes.
Check back next time for more exciting information about genes and you!