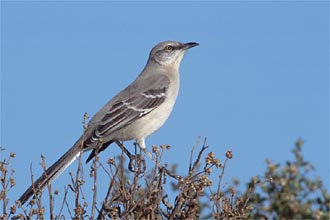 Photos by Peter LaTourrette. North American Birds Photo Gallery
Conditions of Use

play song

The file above is in .mp3 format. You will need an mp3 player in order to listen. If you do not have an mp3 player you can download one. Click on the picture below. It's free and works great!

Field Marks
Slender bill
Gray head and upper parts
Yellow eye
White underparts
Long black tail with white outer tail feathers
White wing bars
White patch in wing, especially visible in flight
Sexes similar
Juvenile has spotted breast
Habitat
Most often found in scrubby habitats and in urban areas.
Status
The Northern Mockingbird is one of the most common birds in the Atlanta area and can be seen almost anywhere. Pay close attention to hedgerows and fence lines.