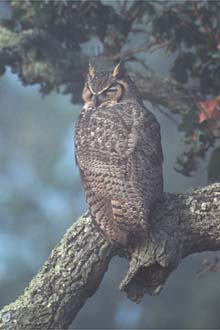 Photos by Peter LaTourrette. North American Birds Photo Gallery
Conditions of Use

play song (counter-singing by two owls)

The song or call above is in .mp3 format. You will need an mp3 player in order to listen. If you do not have an mp3 player you can download one. Click on the picture below. It's free and works great!

Field Marks
Very large owl with prominent tufts
Yellow eyes and dark bill
Upper parts mottled brown, gray, and black
Pale under parts with fine brown bars
Reddish-brown facial disks bordered by black with a lower border of white
White throat patch
Habitat
Within its range the great horned owl can be found in dense woodlands of hardwoods and conifers, along cliffs and rocky canyons, and in forest openings. In general, the great horned owl is solitary and inhabits unsettled places.
Status
Great Horned Owls are not all that common in the Atlanta area, but they have been spotted in Fernbank Forest.