Exploring Nature With Your Child

Parents! Guardians! Children!
Would you like to know more about that bug in your bathroom?  Are you curious about the strange fruit you stepped on in the back yard?
Taught by veteran naturalist and ecologist Al Tate, ENWYC focuses on nature in and around the Atlanta area. The class is designed for parents and children to learn together about animals, plants and natural communities they find around their own home and neighborhood.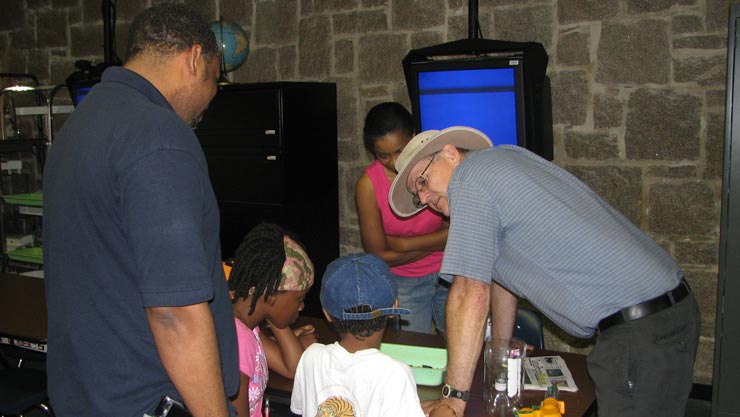 Ecologist Al Tate teaching parents and children at ENWYC class
ENWYC will be taught on the following Thursday evenings from 6:30 – 8:30 PM at Fernbank Science Center.
After Thursday evening, October 18th, because of the busy holiday season, ENWYC classes will not be held through the remainder this year. Then we will return for ENWYC on Thursdays in January 2013, beginning on January 10th at 6:30PM.
Bring your found "things"-- feathers, unknown plants, insects, wasp nests, snake skins, millipedes, leaves, unusual fruits, spiders, shells, or other unidentified objects to ENWYC. During each class, we start indoors with show-and-tell to give our children an opportunity to share their excitement with the class. The instructor will identify and comment on these items and then continue with a featured topic or activity. ("Tadpoles and Frogs", for example).
Exploring Nature With Your Child has been taught for 20 years and is one of our most popular public programs. There is no pre-registration or cost involved. Just come with your children and enjoy learning about nature. Hope to see you there!