Hours of Operation
School Year Hours

Exhibit Hall
Mon-Wed Noon- 5 PM
Thurs-Fri Noon - 9 PM
Sat 10 AM - 5 PM
Planetarium
Click here for the schedule
Observatory
Thurs & Fri 9:00 - 10:30 PM (weather permitting)
Library
Mon - Fri Noon - 5 PM
Sat 10 AM - 5 PM

FSC is closed on Sunday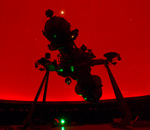 Planetarium Upgrade -
The planetarium is getting an upgrade! The Jim Cherry Memorial Planetarium at Fernbank Science Center will be upgraded this summer to the SPITZ SciDome 4K Laser projection system. This new technology will create a stunning immersive environment.
Installation will require that we shut down the planetarium from June 1 to July 4, 2016.
The last program this Spring will be Friday May 27 at 8:00 PM. We anticipate that the first program with the new system will be Tuesday July 5, 2016. The exhibit hall and grounds will remain open during installation and will remain free to the public. Please check back this summer for updates!
Do you have a question or a suggestion?